Monday we received the call that Grammie had passed away. It's not that it wasn't expected but hearing that a loved one has died is so final and leaves a hole in your heart. I know we'll see her again in Heaven, but her seat is empty, Grammie was a wonderful Grandmother! My kids have had the privilege of seeing Great Grammie often and they were some of her favorite people! I immediately started brainstorming something that would be special from her great grandchildren and that would survive a trip to Pennsylvania. I searched
Pinterest
and combined a few ideas into one!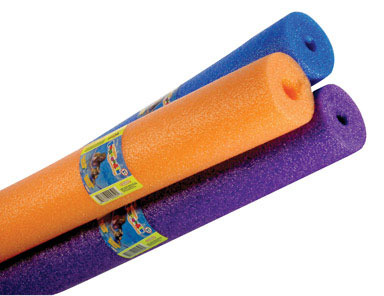 I used a pool noodle from the garage my inspiration came from
here
! Since the closest Lowe's is an hour away I raided the garage. I had to promise to replace the noodle before it gets warm though! All you need to do is bend it into a circle and duct tape it. Seriously! How easy and cheap!
I also saw this
valentine wreath
which is adorable!
So, with those ideas in mind I dug some burlap out of the closet, an old curtain, A brown bead necklace, my glue gun and went to work. I had no idea how it would turn out.... I've never done this before! But the results came out very cute. Mia helped me write the messages on the wreath. Owen was too nervous he would mess it up so he asked sis to help him out. Dylan would have loved to add his slobber to the project!
I don't have any step by step directions. If you know me this project was about the same way I cook. A little of this and a little of that. I added twine around the edges of the pictures. I had some yarn as well that some of the pictures are edged with. The leaves are made from scrapbook paper that looks like old music. There are a few buttons on there, and if I had time to get more I probably would have added some more.